Sig Sauer P238
Introduced by Sig in 2009, the P238 was created for concealed carry and to compete directly with other ultra-compact .380 pistols like the Ruger LCP and the Kahr P380. Unlike most other .380 models of this size, the P238 is a single action only pistol built on the same Browning operational design as the Colt Mustang series of .380 pistols. Many in the shooting industry feel that the P238 is basically an upgraded version of the Colt Mustang, with some new features.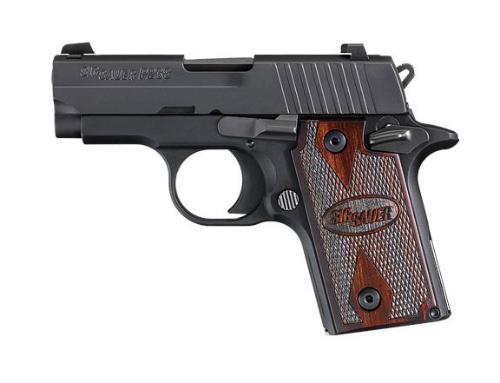 Scroll down to see all the Sig P238 holster models that we carry
Unlike many of the other compact .380 models which operate on a polymer frame, the P238 uses an aluminum frame with a stainless steel slide. As a result, the 238 weighs nearly 1 pound unloaded, which is a bit more than comparable polymer framed guns. Sig opted for an aluminum frame as they were concerned about recoil and shootability with a .380 pistol weighing less than 14 ounces unloaded.
Dimensions on the P238 include a length of only 5.5 inches, with a height of 3.96 inches, and an official unloaded weight of 15.02 ounces; making it optimal for concealed carry. The P238 features a standard magazine that will support 6+1, and Sig also offers an extended magazine that ups the capacity to 7+1.
Thanks to its growing popularity, Sig now offers the P238 in 22 different models (at the time of this writing) with each model offering different frame colors, grips and grip colors, features (integrated laser), and finishes.
The Sig P238 is an excellent little gun for both the casual and serious gun user. With its stylish design and powerful performance, this one looks like a keeper for Sig.
Any holster listed below is available in a Sig P238 holster version, with the exception being the P238 model with the integrated laser (Sig P238 Tactical Laser). The laser model requires a holster specifically designed to accommodate both the pistol and laser.