Sig P320 RX Fullsize
The Sig P320 Fullsize RX model was introduced at the 2016 SHOT to quite a bit of fanfare. Given the success of the Glock pre-milled RMR ready models (Glock 40 MOS and Glock 19 MOS), it was really only a matter of time before Sig entered that market.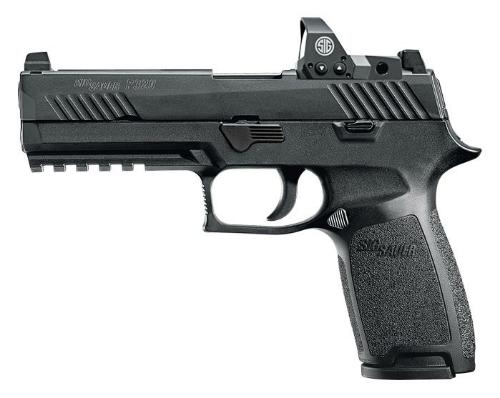 Scroll down to see the available Sig P320 RX Fullsize holsters

However, Sig took a slightly different approach, which has led to some various pro and con opinions. Most pistol manufacturers who offer a pre-milled pistol (as in the slide has been milled to accept an RMR sight) offer the pistol RMR ready with adapter plates to fit most popular RMR models (and if you aren't sure what RMR means, it stands for "Ruggedized Miniature Reflex"). Sig introduced the RMR option but the slide is cut to only fit the Sig brand of RMR, which is called a Romeo1 sight. The P320 Fullsize RX is a fullsize version of the P320 series with a Sig Romeo 1 RMR integrated into the slide. This pre-packaged approach is something that no other pistol manufacturer is currently offering. However, Sig has indicated that they plan to offer versions of the RX series with options to fit other popular RMR options on the market in the near future.
Currently Sig is only offering the P320 Fullsize RX version in a 9mm, but they are planning to begin offering it in other calibers (.40, 357 Sig, and .45) in late 2017 and early 2018. And there is a state compliant version of the fullsize RX for CT, HI, and NY with a standard 10 round magazine.
The RX version is also equipped with a high level front and rear Sig night sights (now commonly referred to as suppressor height sights). This is by design as the taller sights are required to clear the RX sight if a shooter wanted to transition from the Romeo1 sight to traditional sights.
So far, the P320 FS RX model has received very good reviews for competition shooting, range use, and just good old fashion gunning. The two most common complaints (and they are really very minor) seem to be:
#1 – Lack of adapter plates to transition to an RMR optic other than the Romeo1 (which is a very good RMR sight by the way)
#2 – Lack of a protective cover for the RMR slot should one decide to remove the Romeo1 from the slide and just use standard sights.
Another common complaint with RMR topped pistols is the occasional ejected brass striking the RMR and damaging it. It appears that Sig may have specifically addressed this concern as most reviewers haven't encountered that issue with the Sig RX model.
Here are some commonly asked questions that we see regarding holsters for the Sig P320 Fullsize RX:
#1 – I'm having a hard time finding a holster to fit the 320 RX fullsize model. Do you have anything that will work?
While there are a number of kydex holster makers who are already fitting for the P320 RX fullsize model, there are very few leather makers who are offering holsters for it yet. Luckily, we can help as MTR does offer a number of holster models made specifically for the P320 RX full-size model with the Romeo1 RMR sight attached.
#2 – Will a holster made for a standard P320 fullsize fit a P320 RX fullsize model?
If you remove the RX optic, yes it would fit. With the RX optic attached, a standard P320 fullsize holster won't fit an RX model as there isn't space to accommodate the RX sight and the higher sights on the RX model. You will need a specific Sig P320 RX Full-Size holster to fit that pistol with the mounted RX.
#3 – I know the P320 Fullsize RX is a big pistol, but do you offer a Sig P320 RX holster IWB version?
Yes, MTR offers a couple of different IWB holster models for the P320 RX FS model, and those can be seen below.
#4 – Do you offer or know if anyone is offering a Sig P320 RX duty holster yet?
While the P320 RX fullsize has been a popular seller for Sig, we haven't seen any scenarios where a law enforcement agency has adopted it yet as a duty weapon (although that could always change). As such, we haven't seen any holster brands offering a duty holster made to fit the P320 RX fullsize yet. That being said, it doesn't mean that one doesn't already exist, or that a company won't start offering one in the near future. About the closest we could currently offer in terms of a duty holster for the P320 RX fullsize would an OWB MTR Custom belt holster with an added thumb break. That would basically equate to a Level 1 security holster by most standards.
#5 – I've got a P320 RX fullsize model with a Streamlight TLR-4 mounted on it. Do you have anything to fit that set-up?
Yes, MTR offers holsters for the P320 RX fullsize with a number of popular lights or lights attached, including the TLR-4.
#6 – I have the newer Sig P320 RX Compact version. Do you have anything to fit that model?
MTR is also offering holsters to specifically fit the P320 RX Compact model and those holster model scan be seen by following this link: Sig P320 Compact RX holsters.
Any model you see listed below is available in a Sig P320 RX fullsize holster version with the mounted Sig Romeo1 RMR sight.