Taurus Judge Public Defender
Although the original Taurus Judge was an excellent seller for Taurus, fans started asking for a smaller, more compact version of the Judge. In 2010, Taurus met this need when they introduced the Taurus Public Defender. The Public Defender was designed to target the CCW, self-defense, and home defense markets.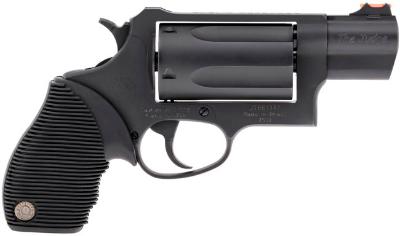 Scroll down to see all the Taurus Judge Public Defender holster models we carry.
Compared to the standard Taurus Judge, the Public Defender is a small package. Nearly everything on the Public Defender has been scaled down as it features a shortened barrel (2 inches long), smaller frame, and shorter grips. Unlike many of the full-size Judge models that will shoot a .410 shotshell up to 3 inches long, the Public Defender has a shorter cylinder that will only fit a 2 ½" .410 shotshell. The reduction in size means the Public Defender weighs in at 28 ounces, which is a full 3 ounces less than the full size Judge.
Like the standard Judge series, the Public Defender will shoot a 2 ½" 410 shotshell or a 45 Long Colt pistol round. In addition, like the original Judge, the Public Defender (PD) can shoot most any 2 ½" 410 shot shell including birdshot, buckshot, or rifle slugs. This versatility means you can load most any 5 shot combination of various 410 and/or 45 Long Colt loads. This allows a person to tailor the load to specific situations such as using a number 4 or 6 410 birdshot for a home defense scenario in a densely populated area where you were concerned about a round penetrating a wall.
However, when you shave weight off a handgun of the same caliber, the laws of physics generally means a greater recoil and muzzle blast. This holds true with the Public Defender as its recoil and muzzle flip is significantly greater than the original Judge. Taurus has attempted to help combat this by offering the Public Defender with a recoil reducing rubber grip.
Like most all Taurus handgun and revolver models, the Public Defender is equipped with Taurus's Security System, which uses a key to "lock" the revolver in a safe position where it cannot be cocked or fired.
Currently Taurus offers four versions of the Public Defender series:
4510PD-3B - A metal frame version with a blued finish, rubber grips, and a hi-viz front sight.

4510PD-3SS – A stainless steel version of the Public Defender with rubber grips and a fiber optic front sight.

4510PLYFS – A polymer framed version of the 4510 series with a blued steel cylinder.

4510PLY-SS2 – A polymer framed version of the 4510 with a stainless steel cylinder.
Here are some commonly asked questions that we have seen regarding the Taurus Public Defender holster fits:
#1 – I have one of the polymer framed 4510 POLY models of the Public Defender but have found that a holster made for the steel Public Defender will not fit well. Do you offer anything to fit the polymer frame version of the Public Defender?
For some reason, the polymer framed version of the Public Defender has different dimensions that the standard steel versions, so a polymer framed 4510 Public Defender WILL NOT fit in a holster made for a steel Public Defender. If you are shopping for a holster for the polymer framed PD versions, go here: Taurus polymer public defender holster.

#2 – I have the standard Taurus Judge and recently also bought the Public Defender version. Will my Public Defender version fit in my standard Judge holster?
Unfortunately, it will not as, even though they are both part of the Judge family of revolvers, the Public Defender has a different frame and barrel length compared to the standard Taurus Judge.
#3 – I love my Public Defender, and want to carry it for CCW. Can you suggest a good CCW holster?
Your best choice for hiding the Public Defender for CCW is probably going to be through IWB carry. The MTR Custom Adversary, MTR Tuckable Adversary, or the MTR Slim-Line Tuckable holsters are all good CCW options for the Public Defender. All those holster models are listed below.

#4 – I really like the Don Hume line of holsters, but can't find any Don Hume holsters on your site that fit the Public Defender?
While Don Hume does offer holster options for some of the Taurus Judge models, they currently do not offer any Taurus Judge Public Defender holster models yet.
Any holster model listed below is available as a Taurus Judge Public Defender holster.