Wilson Combat
Wilson Combat is a manufacturer of custom 1911 pistols, custom AR rifles (AR-9, AR-10 and AR-15), and custom shotguns.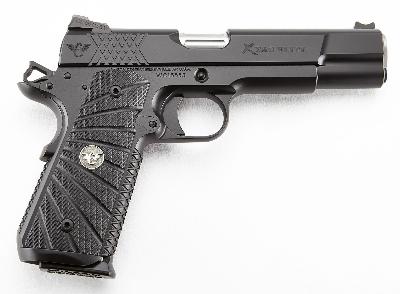 Bill Wilson founded the company in 1977 in Berryville, Arkansas in the back of his parent's jewelry shop. Wilson was trained as a watch maker/technician originally, but always had an interest in guns. Before starting the business, Wilson was a competitive handgun shooter when competitive handgun shooting was just catching on. He started out just tuning 1911's and other competition guns with aftermarket parts, and saw a market opportunity in the aftermarket 1911 parts industry. Originally, the company was named "Wilson's Gun Shop", but Bill Wilson later changed the name to Wilson Combat. In 2002, Wilson Combat purchased a specialty shotgun company called Scattergun Technologies, and began offering custom shotguns under the name "Wilson Combat Scattergun Technologies.

Although Wilson Combat is well respected in the rifle and shotgun industry, they are best known for their line of custom 1911 handguns. Not only did Wilson Combat modernize the 1911, they also were one of the first companies to address one the biggest reliability issues in the 1911 world: poorly designed magazines. In 1980, Bill Wilson saw a major issue with 1911 magazine design and set out to come up with a better solution. The result was a precision made 1911 magazine that changed the aftermarket 1911 market.

In addition to his contributions to the gunsmithing industry and the custom gun market, Bill Williams also played a major role in the development of a number of competitive pistol shooting leagues and groups. He is best known in competitive shooting circles for his role as a founding member of IDPA (International Defensive Pistol Association).
Here are some links to holster pages made for specific Wilson Combat pistol models.