1911 Government Model 5 inch barrel
Designed in the late 1890's by famed gun designer, John Browning, the Colt 1911 has a storied history, and still remains one of the top selling pistol models in the world. The Browning design was submitted in the 1906 pistol trials where the US Army was searching for a semi-automatic pistol in 45 caliber as a replacement for the currently issued Colt revolvers chambered in .38 Special. The 1911 won the trials in 1910 and was formally adopted by the US Army on March, 26th 1911. This led to the pistol being named the M1911.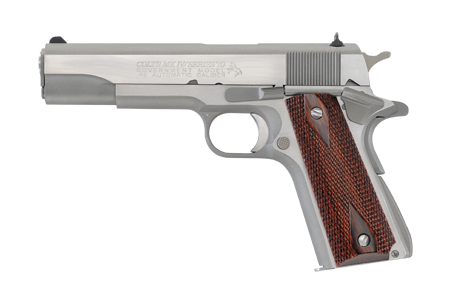 Scroll down to see all the Colt 1911 holster models that we carry.
Although the US military switched from the Colt 1911 to the Beretta M9 in 1985, the Colt 1911 has many fans. Even today, after almost 100 years of service, the 1911 is still one of the top selling handgun models in the world.
Although predominately chambered for the 45 ACP round, the 1911 series has also been offered in other calibers including:
.38 Special

.38 Super

9mm

10mm
The standard single stack 1911 magazine holds 7+1 in 45 ACP, although extended magazines are available that will increase the round count to 10+1. Some handgun manufacturers also deviated from the classic John Browning single stack design and offer a 1911 series pistol in a double stack magazine configuration, which increase the round capacity to 14 +1.
Factors such as the interesting history of the 1911, and the battle tested effectiveness of the 45 ACP round, coupled with its ability for easy customizations played a significant role in the popularity of the model. Also, the design sparked a number of equally popular, yet smaller variations such as the Colt Commander model with a 4 ¼" barrel, Colt Officers model with a 3.5" barrel, and Colt Defender model with a 3" barrel.
Despite the overall length of 8.25", the thin grip of the single stack design, along with the grip angle, make the 5" 1911 a popular choice for concealed carry. The 1911 and its smaller cousin models are especially popular for IWB carry thanks to the grip width and size.
Given the popularity of the 1911 handgun series, nearly every holster maker in the world offers a holster model to fit it. Finding a holster for this model should not be an issue.
Here are some commonly asked questions that we see regarding 1911 holster models:
#1 – I have a Charles Daly 5" 1911, but I'm having trouble locating a holster specifically made for that brand of 1911? Do you have anything that will fit it?
John Browning's 1911 design has spawned more copies and clones that any other modern day pistol. There are literally nearly 100 firearm brands that offer some version of the 1911 design. For the most part, most brands follow the same dimensions and specs of the original and most popular 1911 frame sizes. As such, you may not see anyone who offers a holster specifically made for a Charles Daly 5" 1911 or a Kimber 5" 1911. Most holster makers group all the 1911 models together in fits based on the barrel lengths and most common sizes are:
5" 1911 model (commonly called the Government model)

4 ¼" 1911 model (commonly called the Commander model)

3 ½" 1911 model (Commonly called the Officers model)

3" 1911 model (commonly called the Defender model)
As long as your 1911 is a "standard" model (as in built on a standard 1911 frame) and you know the barrel length, then it should fit in one of the frame sizes listed above. Now, there are brands out there that don't follow the original Colt barrel lengths verbatim. For example, brands like Kimber and Springfield don't offer a 4 ¼" 1911 model, but do offer a 4" 1911 model. Again, as long as you know the barrel length, finding a holster that fits your 1911 shouldn't be a problem.
#2 – I have a Colt Commander and I'm having trouble finding a 1911 holster to fit it on your website? Can you please direct me to the page listing all the Commander holsters that you carry?
Be glad to help. Here are links to all the 1911 holster pages that are on our site:
#3 – As I'm shopping on your website, I see references to a 1911 with a "rail"? What does this mean and how can I tell if my particular 1911 version has a "rail" or not?
The "rail" reference refers to a picatinny rail, which is basically just a slot that cut into the front end of the pistol frame (right under the barrel area). This slot allows you to mount an accessory such as a tactical light or laser onto the 1911. Originally, none of the 1911 models were factory built with a picatinny rail, but that feature has become more popular over the years, so some 1911 brands have started building 1911 models with an integrated rail. Here's a picture that might help: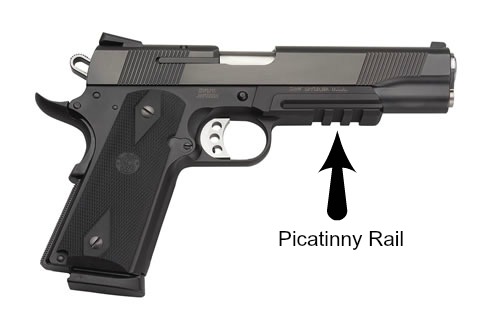 #4 – I think my 1911 has a picatinny rail. Will it fit a 1911 holster made for a standard 5" 1911?
If your 1911 does have a picatinny rail, then it won't fit in a holster made for a traditional 5" 1911 without a rail. The rail built into the frame makes the frame wider than a standard 1911 frame, so your 1911 with a rail will need a holster made specifically for a railed 1911.
#5 – I have a 1911 5" model chambered in 9mm, but don't see any 9mm 1911 5" options on your website?
The caliber of the 1911 won't really matter as most 1911 makers manufacture the pistols to the same dimensions regardless of the caliber. So a 1911 5" chambered in 9mm and one chambered in 10mm both fit into a 1911 holster made for a 45 ACP model.
#6 – I have a 5" STI 1911, but I've been told that it won't fit in a holster made for a standard 1911 5" model? Is this true?
Some of the 1911 makers on the market have taken the original 1911 concept and made slight changes to the frame and/or barrel length. STI is one of those brands and you are correct in that your STI most likely will not properly fit into a holster made for a 5" 1911. Some other brands that offer what are commonly called "hybrid" (as in non-standard) 1911 models are:
STI

Sig Sauer (they offer both a traditional and hybrid series of 1911 models)

Springfield Micro (a 3" 1911 with a rail)
#7 – I'm interested in getting a belt holster for my 1911 5" with a retention strap, but I don't understand what your website indicates that some of the holsters with a retention strap are only available in a "C&L" configuration? What does "C&L" mean?
The 1911 is a single action design that is designed to be carried with a round chambered and the hammer cocked, with the thumb safety up. This carry style is commonly referred to as "cocked & Locked" or "C&L" for short. Some holster brands (such as Don Hume) only offer holsters for the 1911 series with a retention strap (or thumb break) in the C&L configuration. This means that the thumb break will only snap closed and function properly when the 1911 is carried with the hammer cocked. If you carry with the hammer down (commonly called "HD" carry), then you'll need to make sure that you order a holster with a thumb break for a 1911 5" carried in the HD position.
#8 – I'm new to carrying a 1911, and see references online to various conditions of 1911 carry including a condition 1, condition 2, and condition 3? What does these conditions means and how does that impact me buying a holster for that pistol?
What you are asking about is commonly called the conditions of readiness for a single action pistol. It was originally designed for the 1911, but today, is applicable to most all single pistols on the market. The late and great Col. Jeff Cooper is credited with defining these 3 levels of conditional readiness of a single action pistol:
Condition 1 – In Condition 1, the 1911 contains a loaded magazine, has a round in the chamber, and the hammer is cocked with the thumb safety engaged. This is also commonly called "Cocked & Locked" which was previously mentioned. In order to fire, the grip safety has to be depressed, the thumb safety has to be disengaged, and the trigger has to be pulled.
Condition 2 – In Condition 2, the 1911 has a loaded magazine and a round has been chambered. The hammer is then uncocked (on a live round). This is also commonly called Hammer Down (HD Carry), and was previously mentioned as well. In order to fire a 1911 from the Condition 2 position, the hammer must be manually cocked, and the trigger must be depressed.
Condition 3 – In Condition 3, the 1911 has a loaded magazine, but the chamber is empty and the hammer is down. In order to fire the pistol, the slide has to be cycled so a round is loaded, and then the trigger has to be depressed.
For holster purposes, the Condition carry of a 1911 is really only relevant when you are purchasing a holster with a thumb break or retention strap. In those cases, you have to ensure that you are purchasing a holster model where the thumb break will work correctly with your preferred method of conditional carry (either Condition 1, 2, or 3).
Any of the 1911 holster models listed below are available in a version to fit a 5" Colt 1911 pistol.