Sig Sauer P220
The Sig Sauer P220 was introduced in 1975, and was originally designed for the Swiss Army as a replacement for their aging Sig P210 pistols. The P220 marked the first time that SIG partnered with J.P Sauer & Sohn of Germany to produce the pistol. Moving forward, this partnership became the Sig Sauer brand.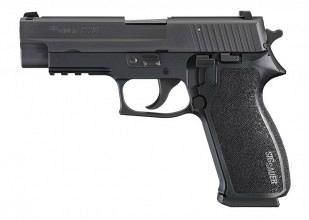 Scroll down to the bottom of the page to see all the Sig P220 holster models that we carry
The original P220 series designed for the Swiss Army was chambered in 9mm and was known as the P75 or "Pistole 75". Its success in Sweden led other nations such as Japan and Denmark to adopt the P220 for military use.
First run P220 models featured a heel mounted magazine release (common on European style models) and a lanyard loop (common for military use during that time). The design featured DA/SA functionality with a decocker device that allowed the hammer to be safely lowered without the possibility of firing.
From 1977 to 1980, the P220 was imported and sold under the Browning line as the Browning Double Action or BDA. Those Browning models were offered in 9mm, .38 Super, and 45 ACP. The offering was discontinued in 1980 due to poor sales.
Until 1984, the P220 was available in 9mm or 45 ACP. However, when Sig Sauer created the Sig P226 as an entry into the 1984 Joint Service Small Arms Program (which was ultimately awarded to the Beretta 92), Sig opted to only offer the P220 in the larger 45 ACP caliber.
Currently the P220 is offered in 45 ACP, and as of 2015, the 10mm. The standard P220 configuration is DA/SA with a decocker, but Sig also introduced functional variants including:
DA only – The Double Action only models will only operate in double action and do not include a decocker.

DAK – The DAK acronym stands for "Double Action Kellerman", and it's a basically a double action only trigger designed for law enforcement that offers a consistent double action trigger pull for every shot.

SA only – Single Action only means these models function like a 1911 in that the hammer has to be cocked back in order for the pistol to fire. The SA only models have a thumb safety much like the ones found on a 1911 (or any other single action pistol) and are designed to be carried in the cocked and locked (hammer cocked) position.
Early model P220's were not produced with a picatinny rail, but newer models (ones manufactured after 2001) are built with an integrated rail. The rail system used from 2001 to 2015 isn't quite a mil-spec 1913 rail, but it will accept most accessories built for the 1913 rail. As of 2015, most all Sig weapons equipped with a rail have a true 1913 picatinny rail.
The success of the P220 has led Sig to introduce a number of P220 variants including:
P220 Carry – This is P220 with a slightly shorter barrel and slide (3.9) with a full size frame. It offers all the round capacity of a full size P220 on a slightly more compact frame.
P220 Compact – This version uses a more compact frame and a shortened slide (also 3.9") and really ended up being a replacement for the now defunct Sig P245. If you're shopping for a holster for the 220 Compact, go here: Sig P220 Compact Holster Models.

P220 Combat – The Combat is Sig's version of the P220 that was submitted to the Joint Combat Pistol Program which was a joint military program to replace the Beretta 92 as a standard military sidearm in the US armed forces. The Combat comes in 2 versions a standard and threaded barrel version.
P220 Hunter – New for 2016, this version is chambered in 10mm and used a standard P220 frame mated to a longer slide (5 inches versus 4.4 on the standard P220).
P220 Legion – Introduced in 2017, Sig has added the P220 to its Legion line of pistols. The P220 Legion features a number of upgrades over a standard P220, but will fit in the same holster as a regular P220.
Some questions that we commonly see regarding holsters for the P220 series of pistols:
Do you offer any holsters to fit the P220 Carry?
Yes, we do, and the P220 Carry and the P220 Compact actually fit into the same holster fit as they have the exact same barrel/slide length.
Will my P220 fit into a holster made for a Sig P226?
Technically, both models are the same size, so it should. However, it will depend on a few factors. Both the Sig P220 and the Sig P226 is/was offered in versions with or without rails. An older P220 without a rail will fit into a holster made for a railed or non-railed P226. However, a newer P220 with rails won't fit into a holster made for a non-railed P226.
I'm not sure if my P220 has rails or not and I don't see any holster options for a non-railed P220?
Modern day holster makers mold P220 holsters off a railed P220 as those are now more common that a non-railed P220. Your non-railed P220 will fit a railed holster just fine.
I have a P220 DAK and wanted to see if you offer any holsters with a thumb break for the DAK models?
We have holster models with a thumb break for the regular P220 models and the P220-DAK models. Since the hammer on the DAK is different than the hammer on the standard P220, it requires a special holster with a thumb break for the correct fit.

Do you offer or carry a Sig p220 holster with light?
Most any of the MTR Custom holster models that you see listed below are available in versions to fit a Sig P220 with a number of the more popular light models mounted on it. Those light models include a number of the Streamlight weapon light models, a number of the Olight weapon light models, and a number of the Surefire weapon light models.
I see some holsters advertised as fitting a Sig P220 and others advertised as fitting a Sig P220R? What's the difference?
The early models of the Sig P220 did not come equipped with a light rail, but later models of the P220 were built with a rail. Some of the later models were marked as "Sig P220R" models. Sig later dropped the "R" designation as most all of their pistol models were equipped with a light rail.

Most holster brands mold P220 holsters off a P220 mold with a rail, because it will fit both the railed and non-railed versions of the 220. fit
Any of the gun holsters models listed below are available in a version to fit the various Sig P220 configurations.